BTA Testimony on Pedestrian Bridge Grant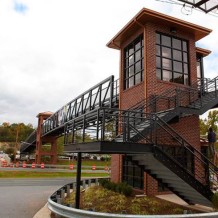 Dear Chairwoman Murphy & members of the Bedford Town Council:
On July 19th the Board Members from the Bedford Taxpayers Association took an official vote in opposition to the proposed Route 101 bicycle / pedestrian bridge and sidewalk project.
There are several reasons we opposed this costly expenditure:
1) The proposed estimate is $1.6 million dollars. However we are concerned that the final cost to the taxpayers could be well above the projected cost.
2) A grant application to the Federal Government simply means you are still using tax dollars. In other words, taking our money from a different pocket still means you are taking money out of our pockets.
3) Taxpayers in Bedford could use a break on their taxes versus additional spending on projects that are not necessary.
4) The proposed bridge in the plan does not fit with the historical nature found in Bedford. Our members are reporting that the planned metal bridge that must be high enough for semi trucks to drive under appears to be more of an eyesore than something that enhances the historical beauty in our town.
5) This appears to be another government-funded project that will cost taxpayers a great deal of money, but will never benefit the vast majority of residents. Who will benefit the most? – companies who will profit off of the taxpayers.
6) If something this extravagant is really wanted, it was suggested that you seek private donations from area residents and businesses. This will determine whether residents really want to pay for the $1.6+ million dollar project.
Thank you for your continued service to the residents of Bedford and your thoughtful consideration.
Sincerely,
Joleen Worden, President, Bedford Taxpayers Association